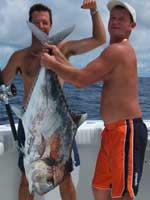 Island Style Custom Yachts was started out of an addiction to sportfishing and high performance custom boats.

How do you build a superior custom boat

First you'll need to spend a few years on the water fishing. Make that several types of water – the gulf stream, rivers, canals and waterways – fishing for a variety of species. Red drum, king mackerel, marlin and giant blue fin tuna would be the short list.

You'll want to own a lot of different boats over the years to see what works and what can be improved on.

It's a good idea to own a couple of custom boats along the way so you'll have a feel for the process through the eyes of the end user.

You'll also want talk to the experts, the sea captains, commercial fishermen, and tournament winners, really anyone who loves to fish and is successful at it will have something to add.

And it certainly wouldn't hurt to have a background in design and engineering and an innate desire to get every detail right.

When the rubbler hits the road, or in this case the concept hits the paper, you'll need to be willing to hire the best in every key category.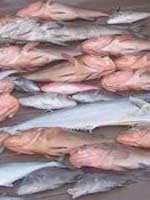 Many an avid fisherman has conjured up his or her dream boat. But very few people have the background to put pen to paper (or mouse to computer) and the perseverance to stay on every detail to its best conclusion.

The Team
Scott Quaintance, founder and owner of Island Style Yachts, has owned several production and semi-custom boats and fished the waters off North Carolina and South Carolina for over 15 years. With Island Style Custom Yachts, Scott brings the same attention to detail and styling to custom boat building that he has brought to custom home building for the last 13 years with his company, Carolina Bluewater Construction.

Donald L. Blount and Associates is name known around the world for expertise in naval architecture and marine engineering. They are considered the leading designer of custom sportfishing boats, partly due to the fact that they construct boats with a superior ride at high speeds and excellent maneuverability and control at low speeds.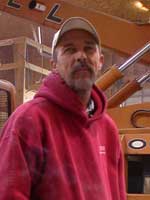 When the decision to build a cold molded boat was made, Scott traveled to Wanchese, NC where the majority of cold molded boats are made. There he hired Dennis Denzin, fiberglass expert and seasoned custom boat builder to oversea production on the first Island Style Yacht.

From the minute you meet Dennis, you know you have met someone who is passionate about what he does. Dennis grew up on a lake in northern Wisconsin where, "... we all fished everyday. You fished before school, after school, and if you were lucky again after dinner." He built his first boat in the corner of his father's boat building shop when he was in his teens.

Dennis's resume reads like a who's who of custom boat builders. He has spent 20+ years perfecting custom boat building techniques and materials with some of the better boat builders up and down the eastern seaboard. Gambler All Pro Bass Boats in Orlando, where they developed and built the Nascar Signature Series of boats including the Bobby Allison, and Dale Earnhart series. Also in Orlando, Dennis worked for Page Enterprises, the builder of Stallion Boats. In Richmond, he continued his craft, working for Performer Yachts; at Lake Anna, VA working for Boat Works Unlimited. He later applied his knowledge of fiberglass and molding to the water spa industry working for Hawkeye Spas in Richmond. In 1995, he returned to custom boat building 47 to 78 foot sport fishing yachts for Davis Boatworks in Wanchese, NC. After a 2 year stint with Inlet Boat Works in Murrells Inlet, where he was responsible for design, development and tooling of a new 66 foot Carolina style sportfishing yacht, Denzin returned to custom boat building mecca Wanchese, NC to work with Carolina Boat Works.

Though a long way from his native Wisconsin, Dennis has kept close to the water and close to his boat building heritage. When it comes to design and development of sportfishing yachts, tooling, lamination and anything fiberglass related, you'll find Dennis Denzin to be the one of the top experts on the east coast.

 Don't miss out on the opportunity to see the 42 Express, Island Style Yacht's first custom built boat and meet the team of experts who built this boat and can build the boat of your dreams.