Launch Site Decided!!!!!
Details

Published on Tuesday, 26 May 2009 13:23
Written by scott
Hits: 1196
We are extremely pleased to annouce that we have joined forces with Ocean Isle Marina and Yacht Club to be the official launch site for Island Style Custom Yachts.  All the guys there have done a 1st class job of completely renovating and adding on to the marina.  If you haven't been by there, you are truely missing out on one of the best kept boating secrets in Brunswick County.  Check them out on their website at www.oceanislemarina.com  Now we both will kept you up to date on the launch date as we get closer, but tentatively we are shooting for the 3rd or 4th week in June.  Both of us are planning on making this a true event to help get even more recognition for Ocean Isle Beach, NC.
On the boat building side, Danny Martin and crew delivered the remaining interior teak cabinets today and install will begin tomorrow.  They turned out awesome, with a high gloss finish.  Most of the bridge and cockpit construction is complete and sanding and fairing are going on strong.  Woody started on the teak toe rail today as well.
Some pics of the cabinets and toe rail where added to the yacht galler, so give them a look.
Island Style Yachts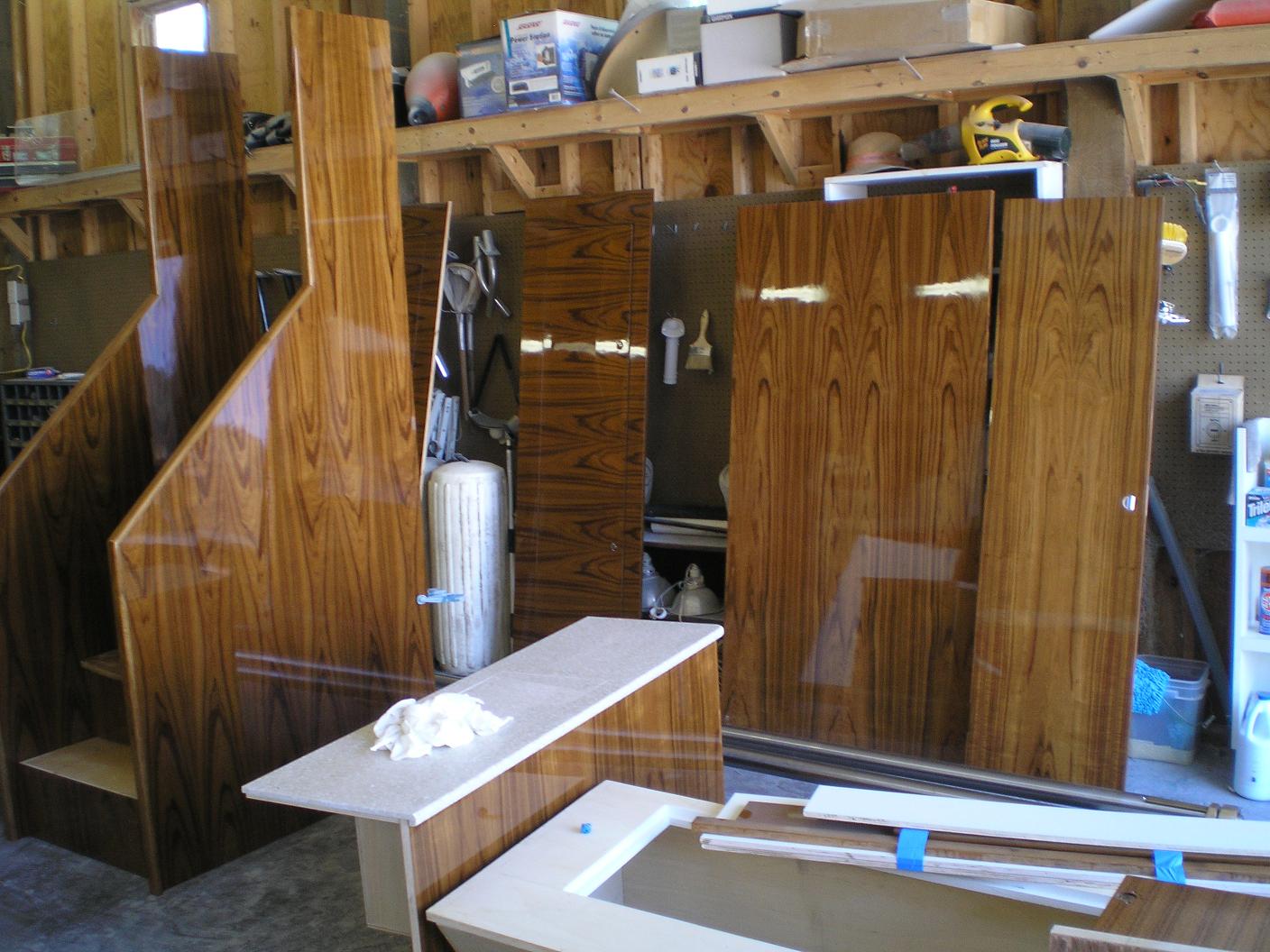 Progress Happening!!!!!
Details

Published on Wednesday, 13 May 2009 13:12
Written by scott
Hits: 1231
WOW!!!!!!  Things are really happening around the shop now.  As we close in on our end of June launch, more and more crews are coming on board.  Jeremy with Royale Yacht Finishing has come on board this week and will be with us with his crew for the next month.  Already this week, they have long board blocked the entire hull and patched/faired the needed areas.  Today they will be shooting primer, tomorrow blocking again, and on Friday afternoon the 1st show coat of ICE BLUE with be painted on the hull. 
On the construction side, nearly all of the bridge components are installed.  Including seating, console, live well/ tuna tubes, ice maker cabinets, tackle cabinet, and helm step.  The remainder of interior cabinets will be here Monday and installation next week.  Just in time for Cathy with Crystal Coast Interiors to take patterns for soft goods.  Also, next week we will be beginning with the teak toe rail, cock pit, coaming, and cover boards. 
This update wouldn't be complete with out mentioning we are officially on board as the boat builder and captains meeting party sponsors for the Barta Boys and Girls Club Billfish Tournament located in Beaufort, NC on July 15-18, 2009.  Check out there link http://www.bartabillfish.com/ and help us support this great cause and event.  This will be the coming out party for the Island Style Custom Yachts, Q42 Express.  As she will be located front and center at the Beaufort Waterfront for all to see and tour.  And with a little luck, we will even get a little fish slim on her.
So, if you are in the area, stop on by the shop and check things out.  Because it is happening fast and it is truely amazing to see it come together.  Check out the updated photos under the YACHT page as well.
Island Style Yachts
Great Weekend To Be At Ocean Isle
Details

Published on Thursday, 23 April 2009 13:23
Written by scott
Hits: 1122
With 80 degree days and light winds this weekend, it is going to be hard to keep these guys going here at Ocean Isle Beach.  Talks of large trout at the jetties, flounder showing up in Tubbs Inlet, and great reports from the guys on the break, keep coming thru the shop and getting the guys attention.  But we are now on a tight timeline for completion and every second is ticking for us.  With a completion date of mid June, there won't be much rest for the weary.
Monday started another 9 day stretch and since the last update things have progressed nicely.  The cockpit, bridge floor, and foredeck have all been permately installed and glassed.  The shower is set along with the berth cedar lined teak cabinet with high gloss finish.  Man that thing is beautiful and I can't wait to see the rest of the cabinets installed week after next.  The mechanical and electrical systems continue, as we have brought on Kenny Wells, another one of the well known experiences from Wanchese.  Air boxes are in and glassed and 85% of the engine room hook up is complete, with custom battery boxes, recessed switches, and all.  Bridge wings and windscreen are almost completely installed and I will take some pictures at the beginning of next week to update.  This thing looks sleek and mean, and already looks like she's running out the building.  The custom valving for the tuna tubes and livewells are being installed, with easy access and maximum managebility in mind.  All fuel lines, racors, and oil exchange lines have been run and connected.  Next week the power steering system will be complete.
This weekend Tim Daly with Carolina Custom Towers will be here taking measurements and starting on the tower and tops.  Also, we have a fairing crew coming this weekend to beginning on the outside of the hull while we finish up the top side.  They will then move right on up top.  With the time crunch we are just in need of more professional, experienced hands.
So if you get back from fishing early and want to see what it takes to build a true custom sportfishing yacht, stop on by the shop.  We will be there early and late, all weekend long.  Bring the kids also, there's nothing quite like seeing a kids eyes light up when they walk in the shop and see this huge boat towering over them.
Have a great weekend and keep them lines tight!!!!!!!!!!!
Island Style
Fresh Paint!!!!!
Details

Published on Wednesday, 13 May 2009 13:12
Written by scott
Hits: 1210
This afternoon was the first coat of Ice Blue on the hull sides.  Man she looks good with color on her.  Check out the Yachts page for more pics.  And here is one as well.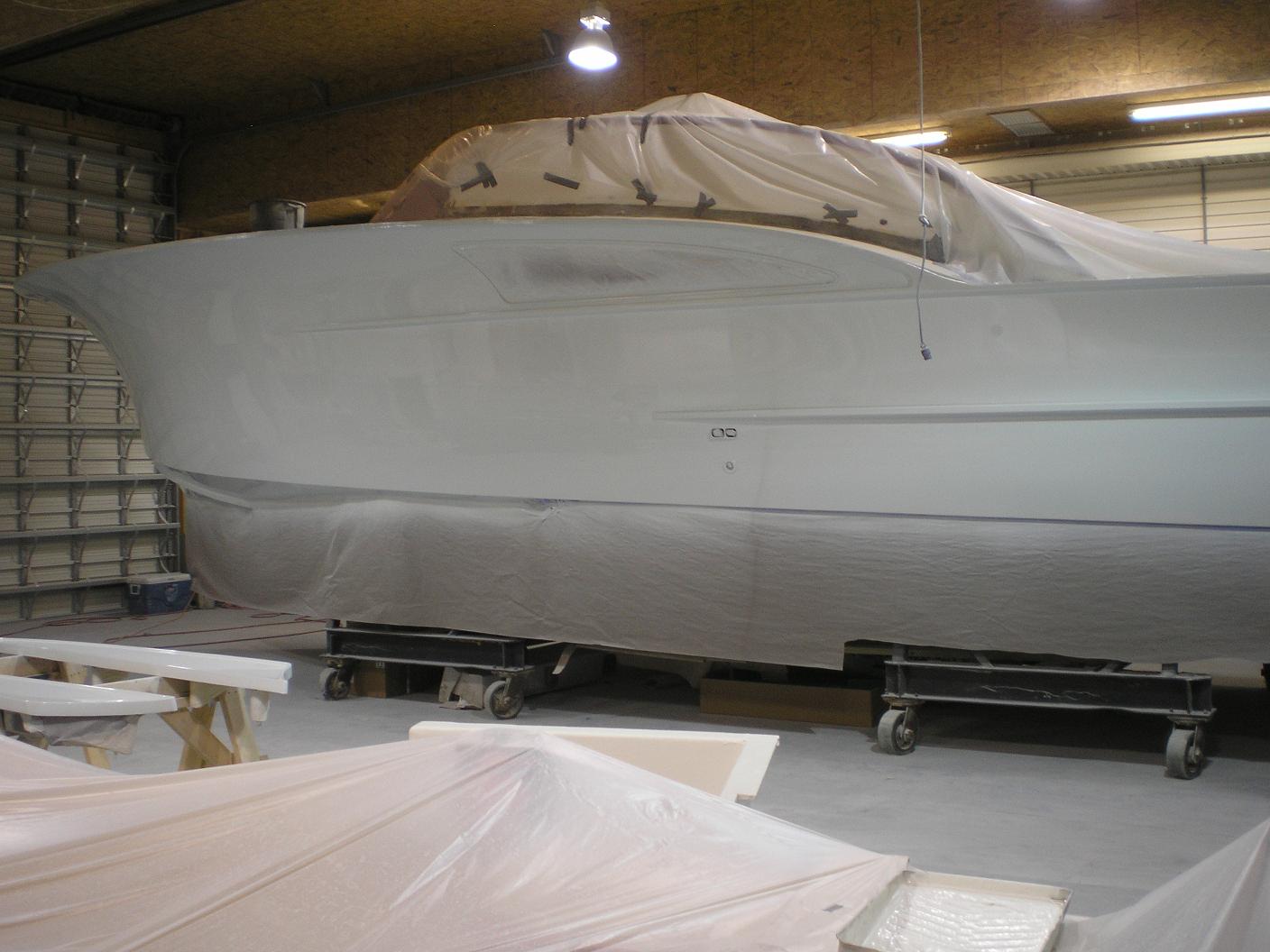 New Things Happening
Details

Published on Wednesday, 01 April 2009 13:23
Written by scott
Hits: 704
Some new things are happening at Island Style Custom Yachts, as we have officially launched the beginning of the advertising and marketing campaigns.  We have joined sources with Berry Boger Yachts Sales, located in North Myrtle Beach, SC, www.bbyacht.com and are excited about the new relationship.  John Gore, with Berry Boger Yachts Sales, has taken the reign for them and is doing a great job contacting and gathering resources for our exposure.  John has spent extensive time in the shop and can answer any questions you have regarding the boat or construction process.  Check out their website, as the Island Style Custom Yachts first Q42 Express is now for sale, and it's not to late to add your personal touches.
Also, this months issue of Marlin magazine has our first 1/2 page advertisement in it.  In the upcoming months, the ads will vary each month and a write up for "On The Drawing Board" is being processed with all the details of the boat and build.  We are set to test the boat with Dean Travis Clarke, Executive Editor of Marlin magazine, at the Barta Boy and Girls Club Marilin tournament in Beaufort, NC in mid July. 
Another group on board is Mrs. Deborah White with adMedia Incorporated.  We look forward to their expertise in marketing and PR for the upcoming launch of the boat.
Now, to the important items.  The Q42 construction UPDATE!!!! 
The foredeck has been temporarily set.  Allowing for the bridge wings to be templated and cut, the forward wind screen has been jigged and molded, and the chart deck has been glass onto the deck.  All of these components have been constructed of composite materials and fiberglass.  With the foredeck set and the interior bulkheads in place, Danny Martin with D & W Cabinetry, was able to come in and make all of his templates for all of the cabinetry, sofas, berth, and storage lockers.  They will all be constructed of teak with a high gloss finish, and are already well on their well to being finished.
On the mechanical and hookup side, all of the equipment has been installed in the laz.  Including underwater lights, macerator pumps, bilge pumps, rudder ports and bearing, rudders, power steering cylinders and tie bar, and trim tabs to name a few.  With those items complete we were able to set the cockpit and permanently glass it in.  In the engine room, the exhaust system, from Marine Exhaust, has been completed, racors mounted, raw water intakes and valving are in, and all AC and refrigeration compressors installed.  The bridge sole was removed for easier installation of engine room equipment and to install the top hats for the air intakes.  On the next work cycle, the bridge floor will be permanently installed and bridge seating will begin.
Small parts are still being molded.  The shower was molded of composite and fiberglass.  That's right, no wood in the shower.  Battery boxes, lids, drain trunks, refrig and freezer boxes, in floor boxes, and waterways are a few items still being molded.
Well, that's a briefing of what's happening in the world of fiberglass from Ocean Isle Beach, NC over the past few weeks.  Things are really getting interesting, so stop on by the shop and take a look for yourself.  Words or pictures just don't do the job that's going on here justice.
Scott
Island Style Yachts